Gear
ďIím a Foster parent and I love all my children! I own two Foster solidbodies, an arch-top and a flat top."
(Howard also loves his Eastman guitar shown at right on this page)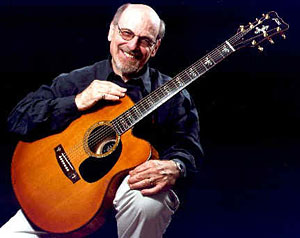 Specs: Carved spruce top, carved maple back, maple back and sides, 5 piece maple neck, multibound ebony fingerboard, headstock and pickguard. Bound f holes. Abolone inlaid ebony tail piece, bridge and headstock. 25 .5 inch scale. Armstrong humbucking pickup. Gold hardware.
Comments: This guitar barks with a crisp, woody, full -bodied cutting tone, even when amplified. There is plenty of sustain for an arch-top and I havenít had any problems with feedback.

Comments: This is the easiest playing, most comfortable neck on an arch-top Iíve ever played. It joins the body at the 15th fret (G) (in contrast with most necks which join at the 14th fret) which makes for extremely easy access to both chords and single notes in the upper positions. Note how neck slants backward towards the player. Very comfortable!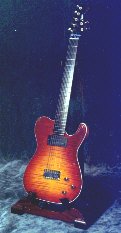 Specs: Solid, contoured, basswood body. Highly figured curly maple face and neck. Ebony fingerboard with that incredibly easy to play Foster neck.
Comments: Master sound guy Tom Doyle (heís Les Paulís sound man) installed in this Foster a wonderfully responsive 7-string magnetic pickup of his own design along with a Mike Christian piezo pickup at the bridge. This is the main guitar heard on my Gershwin CD. It sounds like an acoustic but has the sustain and playability of a solid body I feel that the acoustic properties of this guitar result from a combination of Tomís smooth magnetic pickup, the Mike Christian piezo and Jimmy Fosterís lightweight basswood body construction concept. Although all Jimmyís solidbody guitars are very reasonably priced, I feel that, in terms of tone quality, workmanship, appearance and ease of playing, there is no better builder anywhere, at any price.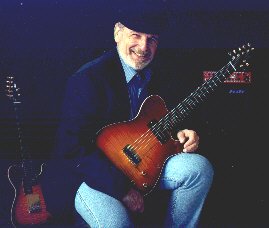 Iím holding my T 5 with the piezo, Standing to my right is another T 5 with an alderwood body . It can be heard on three of the sixteen songs on my Gershwin CD, Bess You Is My Woman, A Foggy Day and Love Walked In. This guitar has a Tom Doyle magnetic split stereo pickup (7 6 / 5 4 3 2 1) with separate volume and tone controls for each side and a master volume control. I use a stereo cable but itís actually two separate mono signals fed into two channels on the amp head. This allows me to use an effect on the top five strings while keeping the two bass strings dry.
My amp rig consists of a two channel Walter Woods handmade mono amphead (approx. 250 - 300 watts) which weighs only 6 1/2 lbs!. Its an extremely powerful amp with a very clean sound. The speaker cabinet is from Flite, built by Kurt Meyer out of special light weight materials and contains eight 4 1/2 inch cones. When I first received the speaker, my initial thought was to return it because it only weighed 20 lbs. I thought ďHow can a 20lb. speaker carry a 7-string signal?Ē Well, eight 4 1/2 inch cones equal 36 inches of total cone space! The sound produced by this speaker cabinet is huge with no distortion. And every time I carry this rig, my back thanks me.
All photographs are courtesy of Gary Morgen, who can be contacted at gmorgen@travelin.com.
To contact:
Tom Doyle
tel: 201-664-3697
Walter Woods
tel: 760-772-7952
Kurt Meyer
tel: 860-774-9374